Visiting wineries in Jerez, Ronda, Sevilla, Madrid, Ribera del Duero, or creating your personal wine route.
Wine lovers often think about improving and expanding their knowledge of wine and wine tasting and so you are welcome to come with us to understand more about the most interesting wineries in Andalucia and in the company of an expert enologist, you will come to gain a deeper understanding of present wines, their history and their intricacies. You will visit the wine fields to gain an integral concept of the embellishment of wine. The price is inclusive of transport and food.
Option 1: "Visit in 2 wineries. Transport, guided tour and lunch are included": We'll look after everything, from picking you up to taking you back. We will manage all the reservations for you, so that you'll just have to enjoy the experience, singing, learning and smiling all day long. We will take you to the first winery, to the second one and finally in the place where we'll have lunch. Departure at 8:30 a.m. and return at 5:00 p.m. We will take you back in your hotel. Minimum 2 persons. Costs: 195ÔéČ/person I.v.a. not included (in case of company, contact us.)
Option 2: "Visit in 2 wineries by yourself and lunch included": Designed for people who loves to explore the world, gett ing a bit lost, and enjoy the travel with your friends or family, but with the assurance that all indications will be clear. Moreover you can call us just in case of hitchs.
Option 3: "Visit in 1 winery by yourself": Designed for people who doesn't want complications or reserved the budget for other actions.
Jerez and Sanlucar de Barrameda
Visit the wineries from "Jerez and Sanl├║car": one of the most historic D.O.(Denominaci├│n de Origen) in the world. These fortified wines with its characteristic aroma, taste and its unique special system in the world. It will surprise you. The criadera and soleras systems make that the wines keep the same quality every year, without influence from the seasonal wines. Why? Discover the fascinating world of wines produced by oxidative and biological aging, the peculiarity of each winery and the little differences that make possible that each wine is different from the others.
Moreover, you must to visit one restaurant from here and pairing your wines with the typical food from Cadiz.
Visit Ronda's wineries. The "Serran├şa de Ronda" has an architectural and wine history that comes from the Roman Age. More than 2.000 years of history that you can see visiting the Roman ruin of "Acinipo", and visiting its wineries, where the highest technologies are mixed with the knowledge matured in the years, creating both red, white and ros├ę wines. These wines reached the maximum evaluation points from recognised critics around the world. You have to go in depth into this wonderful territory and complete your visit with a delicious lunch in a restaurant or if you prefer, inside ones of the wineries.
Sevilla – Sierra Norte Natural Park
The wines from "Sierra Norte de Sevilla", as well as the ones from "Aljarafe Sevillano", are ones of the first that crossed the Ocean . The Andalusian economy depended in part for the "New World" conquest. They are wines forgotten over the years and ridiscovered by the deeply knowledge of wine-producers made aware with economy and agricolture. Discover both red and white wines from here. Typical varieties, as well as French varieties, are beginning in the south of Spain. Futhermore, you can pair your wines with a typical plate from this area.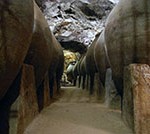 Visit to two wineries, in the "Madrid wineries", with appellation of origin "Vinos de Madrid". In these places, you will taste the most typical wines of each winery…
The day trip to Madrid includes a visit to two wineries in Madrid, in which you will taste the most typical wines of each winery.
You will also learn the techniques used in each winery for the embellishment of its wine. You will visit the operating fields and come to understand the distinct characteristics of the different wines. Lunch will be served in the Aranjuez restaurant.
Option 1┬╗ Option 2┬╗ Option 3┬╗
Day trip to Ribera del Duero
Visit two wineries in the Ribera del Duero, one of the most famous wineries in Spain. Sample the exquisite aromas and flavour of the wines from these wineries.
Taste the most popular wines from these wineries and learn the techniques for wine production. Lunch will be served in the Vinafiel restaurant with another famous city wine.
Option 1┬╗ Option 2┬╗ Option 3┬╗
Create your personal wine route
While we try and cater for every need, often we are requested to visit particular wineries…
While we try and cater for every need, often we are requested to visit particular wineries. So we have provided a tailored route specific to your needs. Tell us what you want and we will design and create the perfect route for you and your companions.